RHS School Gardening Award
The Village School has been awarded the RHS Five Star Award Gardening School. Below is the evidence that was sent to the RHS to show all the work that was put in by Village 3 students. This project was lead by our Horticulture specialist, Aletheia Mashiri.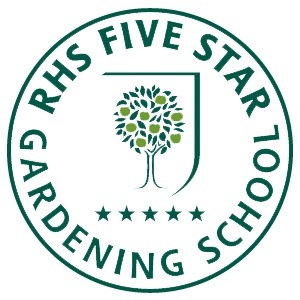 Why did we decide to work with the RHS and who else was involved?
On Friday 12 October 2018 we invited residents from a neighbouring residential care home to our RHS Big Soup Share to celebrate our school's horticulture achievements.
We made soup from pumpkins we grew and enjoyed a lunch with some of the staff and children from Village 3 in our school's café area.
What knowledge and skills did participants learn?
Besides the horticulture skills we learnt whilst growing our pumpkins and marrow, the children learnt how to make a soup from them. Gross and fine motor skills were practised in our food preparation when scooping seeds out and safely cutting the veg into sections and washing and clearing up after.
What were the benefits to the school and our local community?
The benefits to our school gardening group were the profile raised for our horticultural achievements with our neighbours and the sharing and exchange between the two groups.
We were also proud to be able to produce a healthy organic meal 'from field to fork' and learn life skills and independence.
What are the longer term benefits to the community?
The elderly residents in our neighbouring residential home and our SEN learners are from vulnerable, marginalised groups and creating an opportunity like this for the two groups to socialise with each other in a safe, friendly space goes some way in fostering community cohesiveness and wellbeing.
What are we most proud of when we reflect on our achievements?
We are proud to have within a year of applying for our first RHS School Gardening Award been able to produce and share our horticultural achievements by offering a delicious organically grown meal in a beautifully decorated dining area with our local community of elderly residents.
Our school gardeners have a wide variety of special educational needs with some behavioural challenges which on reflection we have been proud to work with to achieve the productive horticulture project we have.