Preparing for Adulthood
All students at school will get information, advice, and guidance support from our Transition Team.
Our Careers Fair for 2022 was on Tuesday March 8th. See here for details. Some photos from the fair below, please click image to enlarge.
Dates for this academic year:
Post 16 Careers FAIR on Monday 17th October 2022 09:30am - 12:30am
Pre 16 Careers FAIR on Tuesday the 7th of March 2023 at 9.30am - 11.30am
The dates for Transition Events for Parents are as follows:
Year 7 - Tuesday 20th September @10am - 11am
Year 14 - Tuesday September 27th @ 10.00am - 11am
Year 13 - Tuesday October 18th @ 10.00am - 11am
Year12 - Tuesday November 8th@10am- 11am
Year 9 - Tuesday December 6th @10am-11am
The TVS Transitions Team will explore college, training, and employment options with students, as well as help with any other issues where support is needed.
They will also signpost the students to appropriate services such as leisure, housing, finance, Social Services, etc.
Neil is in school on Monday to Friday. Appointments to see Neil can be made through contacting the school on 0300 303 0610 (ext 155 ) to connect directly to the Transition Team) or email the address given above.
For more information, please download and read the Careers Curriculum Structure, and the Transition Support Leaflet below. The Careers Policy is available in the Statutory Policies section of the website.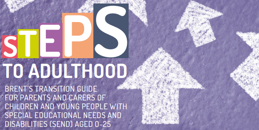 Parents should also be aware of the excellent resource Steps to Adulthood produced by Brent Council. It is specifically designed for parents of carers of young people (0-25) with Special Educational Needs and/or Disabilities.

Brent Council has an excellent PfA resource for young people as part of Brent Youth Zone. There is a great section on Employment, Education and Training opportunities, as well as a handy jargon buster!