Our Curriculum Intent:
We aim to:
Have a fun Curriculum.
Offer different and engaging experiences
Teach core skills of literacy and numeracy and achieve a functional level.
Be bespoke and individualised.
Be child-led, enabling the learners to achieve a voice and self-advocacy.
Enable total communication and teach practical communication skills.
Be challenging, scaffolding skills, and retaining knowledge.
Teach life skills.
Teach self-awareness and self-expression.
Teach values, how to be part of the community and society.
Teach how to be safe in different environments. (safeguarding futures)
Teach social skills and form positive relationships.
Support well-being and improve quality of life.
Equip learners with the skills and knowledge needed for gainful employment.
Lead to meaningful qualifications, accreditations, and lifelong outcomes.
The curriculum at The Village School supports the vision of Progress, Inclusion and Entitlement by giving pupils the opportunity to learn and develop in a supportive and creative environment in which there is a focus on recognising and celebrating achievement and supporting progression in learning and in which pupils feel safe and are happy.
Our aim is that pupils will develop their skills as: independent enquirers, team workers, effective participants, self-managers, creative thinkers and reflective learners.
see full details in our Curriculum Policy
Parents or other members of the public can find out more about the curriculum by contacting the school.
The curriculum pathways for The Village School are:
Stepping Stones (Assessment Levels V1-V4/V5)
Tracks (Assessment Levels V5-V9)
Lanes (Assessment Levels V9 and above)
The pathway descriptions can be viewed below, and downloaded from the link at the bottom of the page
EYFS and Primary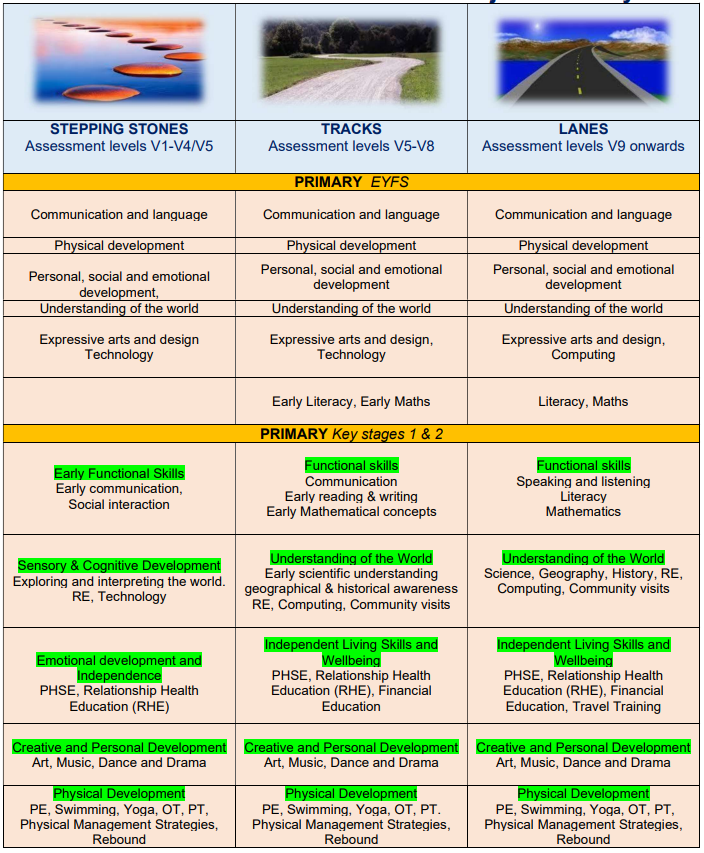 Secondary and Sixth Form