Summer Fair 2021
Posted on: 17 June 2021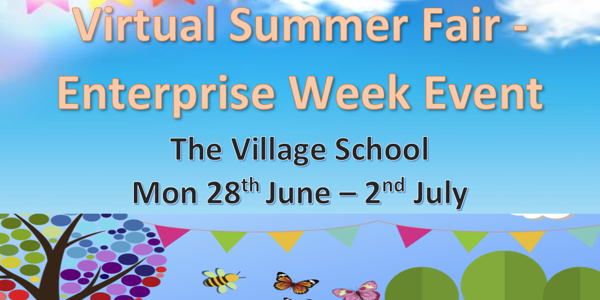 View the list of offerings below
Class 1

Apple, strawberry and banana smoothies - £2.00

Class 2

Crispy Rice Treats

Class 3

Coconut Drops

Class 4

Scones 20p, Banana Bread 30p

Class 5

Sweetastic Fantastic - Deluxe sweet jars

Class 6

Meat and vegetable samosas 3 for £1

Class 8 and 9 Fishing for winning balls.

A 'Fidget' prize for all winners. £1.00 for two tries! Come along to Class 9's garden area, joint with class 8 staff and pupils to have fun in the paddling pool

Class 10

Pizza Slices 50p

Class 11

Popcorn

Class 12

will be selling balloons and ice cream

Class 13

Chaat £2

Class 15 Dance Ribbons £1 (2m)

Great for exercise, gymnastics, carnival or parties. Promotes active movement, visual tracking, rhythm and expression

Class 17

Guess the number of jelly beans.

Winner takes all the beans!

50p a shot!

Class 18

£1 Refreshing Iced coffee

Class 19

Cupcakes 50p each

Class 20

Tie Dye tote bags, £4.50

Class 21: Come along to treat your taste buds with Class 21's delicious and tantalising spicy chaat mix, a summer savoury treat for £1 a cup
Class 23 Horticulture

Class 24 and 25

Finger biscuits racing cars Ice cream cone clown hats

Class 26 will be selling plants:

Mint & Basil for £1 each

Class 27 Popcorn

Class 28 We are giving a new life to all those unwanted jars, containers and objects! Handmade with love and natural cords; you could become the proud owner of a beautiful pencil case, a hanging basket and more.... follow this space! You can give us your unwanted empty jar or any empty container; we will transform them into something beautiful for you! You won't recognise them after "class 28's magical makeover"!

Class 29 will be selling plants during Enterprise and then selling cakes on the 2nd of July.

Class 30 Personalised T-Shirts that are tie dyed Sizes- Medium to Large £3 each Homemade chocolate chip cookies and Vegan chocolate chip cookies £1.50 for 2

Class 31

Slime

Class 32

Decoupage Coffee Tins

Class 33 Choose your favourite quote ...and we'll make you a bookmark….. Add your own name (or give one as a gift) Teachers..buy some for your class ! Only 30p each or 4 for a £1

Class 34 This year for enterprise class 34 will be hand making lollipop stick bird feeders and bird houses. Every feeder purchased will come with a free bag of bird seed.

Class 35 Book markers

Class 36 Decorative flower pots

Class 37 Customisable bracelets with names or significant words.
Class 38 KEYRING! Personalised with pupil's photograph or pupil's name!