Primary School
Welcome to the Primary School
Education is the passport to the future, for tomorrow belongs to those who prepare for it today.

The Primary School is committed to providing a broad, balanced and relevant curriculum education that engages, motivates, excites and challenges our learners whilst preparing them for the future. Our curriculum is sequenced and personalised to meet the needs of our learners, enabling them to reach their full potential and prepare them to take their place in society. We believe our pupils deserve the best provision possible, and therefore, we have high expectations and regularly review and evaluate the curriculum to ensure it is fit for its purpose.
OUR INTENT
We strongly believe that our provision:
Reflects progression and is individualised to support the range of learners we have in school.
Promotes spiritual, moral, social, cultural and physical development
Promotes creativity in learning.
Uses the community as an extended classroom to reinforce the work that we do in school.
Prepares learners for the transition to adolescence and adulthood
Engages parents in partnerships to enhance the learners' cognitive, emotional and social development.
Operates within a clear framework of planning, assessment and reporting
Fosters independent learning, where learners explore and are encouraged to develop an enquiring mind.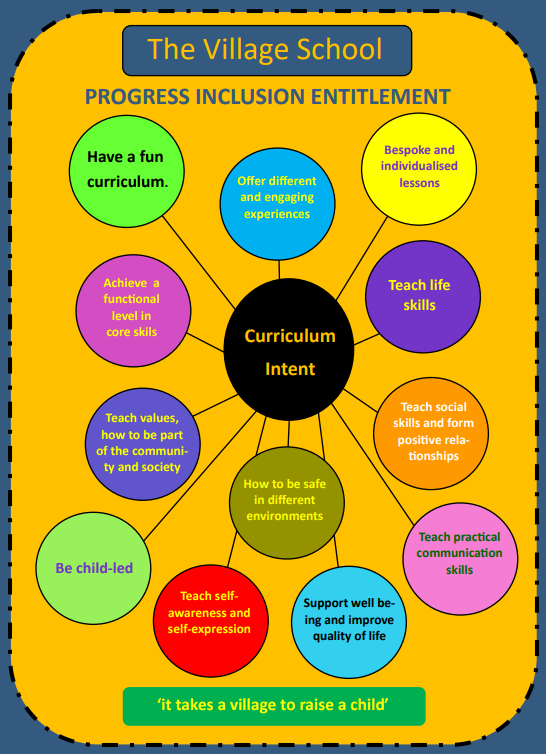 Please see The TVS Curriculum Policy for intent at the end of every key stage.
OUR IMPLEMENTATION
We give our learners opportunities to succeed in a creative, safe, calm environment where classrooms and other learning spaces promote creativity and high aspiration.
Our school prides itself on supporting the school's values of a Total Communication approach to our teaching and learning. The curriculum is developed and delivered through careful planning and assessment of individual needs.
Teaching and Learning in the Primary Department is based on the Early Years Foundation Stage and adapted National Curriculum. Our curriculum approaches in the primary school consider how learners learn, not solely in structured lessons but also in the space between lessons, and the wider school environment. We make sure curriculum implementation enables scaffolding of the skills and knowledge within a cross-curricular and thematic approach each term. We ensure progress is well planned for and supported through opportunities for reinforcement and generalisation.
Our curriculum incorporates a variety of strategies and approaches personalised to small group and individual needs. Early Years, Key Stage 1 and Key Stage 2 curriculum is topic-based. Early Years and Key Stage 1 follow a 2-year cycle and KS2 a 4-year cycle.
Early Years of learning focus on the prime areas of Personal Social-Emotional Development, Physical Development and Communication, Early functional skills (literacy & numeracy), Understanding of the world, and Expressive arts & design.
Key Stage 1 teaching and learning further builds on these areas with an increasing emphasis on Literacy & numeracy, and also includes Independent Living skills.
Key Stage 2 pupils continue to build on prior learning following a modified National Curriculum including content from Bold Beginnings (Reception) and are prepared and supported for transition into Key Stage 3 and beyond.
Curriculum Overview.
Our learners follow one of our three pathways which have been designed to provide the very best approach to enable each learner to reach their full potential.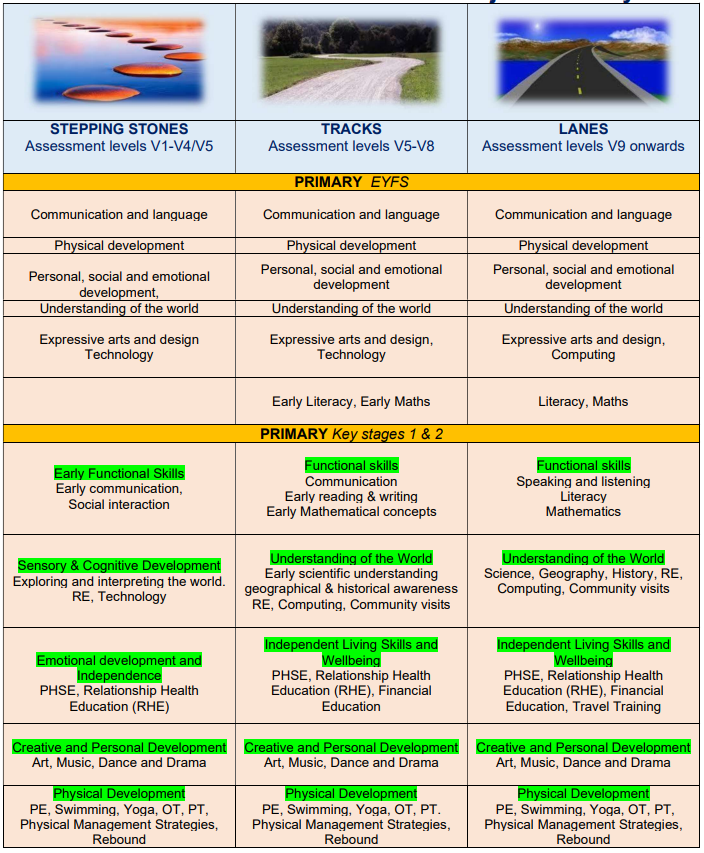 Our Curriculum is learners led and based on students' needs enabling them to achieve the best endpoints.
Due to the variety of needs within our school, there is not a single approach or published scheme that is used to support the teaching in our school. We have developed our own curriculum with a clear link to our pathways.
Early Years Foundation Stage (EYFS)
The Early Years Foundation Stage is delivered following the Early Years Foundation Curriculum, which is divided into Prime and Specific areas of learning.
Please visit our EYFS page for more information.
Stepping Stones Learners
The Stepping Stones curriculum at The Village School is a process-based, sensory and developmental curriculum, focussing on the skills gained through a wide and rich range of activities and experiences, maximising motivation and enabling learners to make sense of the world around them.
You can find additional information in our Stepping Stones Curriculum document.
Track and Lanes Learners
Long term planning
Reading
Our reading pathways use a number of strategies including objects of reference, sensory stories, songs, intensive interaction, photos, objects of reference, CIP symbols, published and personal reading schemes and books, social sight vocabularies and phonics. Reading is embedded across the curriculum, including topic work.
Phonics in the Primary Department
All learners at The Village School will be given the opportunity to develop their phonics skills.
Please see our Phonics page for more details
Writing
Our learners experience and participate in a wide variety of prewriting and writing activities to support their enjoyment, development and effective and meaningful use of their 'writing' skills in their future lives
Mathematics
The approach to the teaching of mathematics within the Primary Department is based on a 3-pathway model. This enables learners to study at a level appropriate to their needs and abilities. Our ethos is making maths real!
Science
Primary - Exploring & Understanding the World Overview
OUR IMPACT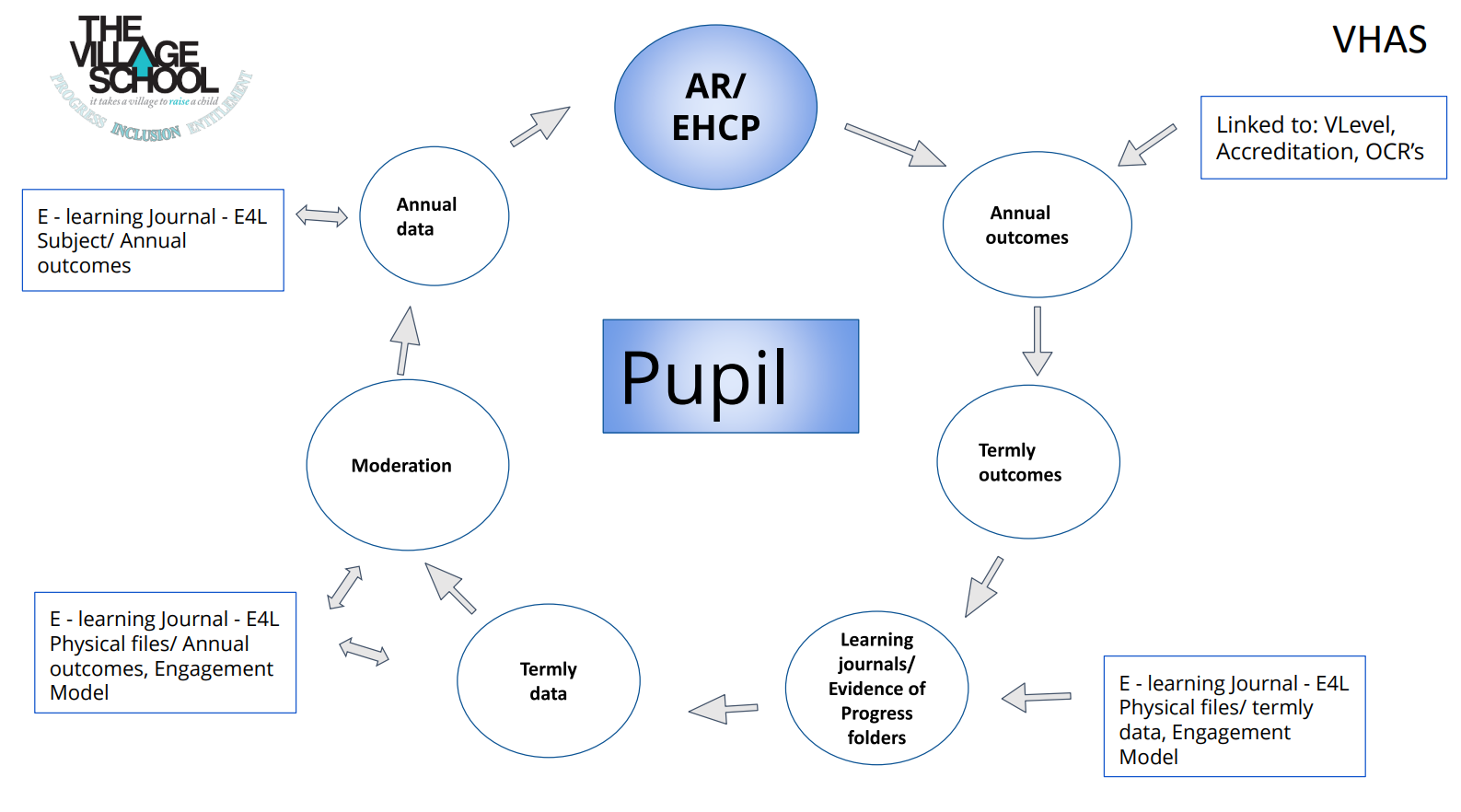 The Headteacher and Deputy Headteacher are coordinate the monitoring cycle in partnership with the leadership team, teachers, therapy teams and parents.
Learners are allocated different pathways (Stepping Stones, Tracks and Lanes; see our curriculum page on this website) related to their attainment on entry to inform expectations of progress, predicted levels of attainment and ensure the best possible outcomes for our learners.
Learners' Educational Health Care Plans (EHCP) have annual outcomes (derived from key stage outcomes) and termly targets, which is a stepping stone toward the annual outcome. The EHCP is the main driver for addressing the core needs of learners. The EHCP will inform the formative and summative assessment of learner progress aligned with the national Engagement Model (from Sept 2021)
EHCP targets are related to the areas of need or planning for preparation for adulthood (PfA)
The School uses its own derived system to model the Engagement Models' bespoke nature. VHAS is used with some learners to measure progress in core skills. At the end of each key stage, learners are assessed and awarded VHAS attainment against the wider TVS baccalaureate criteria.
Learners within the Stepping stones pathway are assessed using VHAS and the Engagement model and are expected to progress through each of the five areas of engagement. This is for learners working below the standard of the national curriculum assessments and not engaged in subject-specific study.
Formative assessments take place continuously by teachers, and summative information is collated at least twice a year for "Tracks", "Lanes" and "Stepping stones" learners.
EYFS assessment procedures are used until the start of year 1 and are based upon the 'Development Matters' assessment approach. This includes a clear structure for challenging targets at EYFS against the Development Matters scale.
Evidence for Learning is used to record learners' working levels, and progress made. All evidence gathered is automatically organised by the app and readily available on-demand. Stakeholders, including parents and carers, can peruse and sort evidence by any attribute. Schools use these features to save time and workload and be better informed during planning, moderation, and ongoing professional development. Evidence for Learning gives us a platform and the tools to develop and demonstrate connected practice which links curriculum, pedagogy, and assessment.
The learner's progress is reported to parents on a number of occasions during the school year. Written information is sent to parents as part of the Annual Review process, and an end of year report and assessments are sent to parents in June. In addition, Parents' Meetings are held for all learners each term. Parents are welcome to discuss their child's progress at any other time during the year.